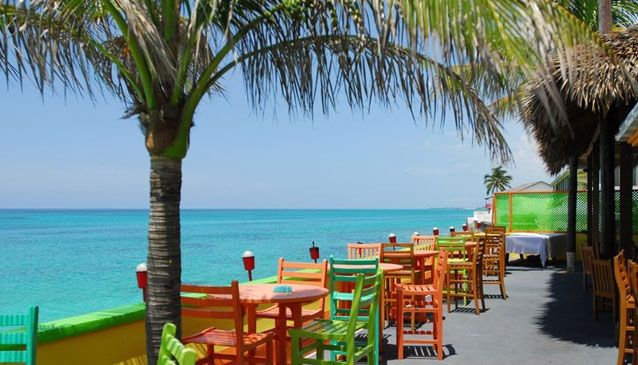 10 Popular Nassau Watering Holes
Food & Drink
From high-end nightspots to underground dives there are many options to keep your senses titillated.
You might find yourself jostling with local music executives, business professionals and budding models as they sip on their favourite tropical cocktails or top lable wines. Tourist maven Compass Point offers all the beverages that you like at a bar including mixed tropical drinks and hard liquor such as rums, brandys and whiskey. The breezy outdoor patio is a major draw, but get there ahead of the crowd as it is usually packed on weekends. While you drink, you can feast on the restaurant's favorite finger foods, from chicken wings to crudités, or the hardy optiosn like chicken and steak diners. Guests also visit for the live band offerings. Bands are rotated so check before you go if you are looking for somone specific.
Nesbit's is an unpretentious local spot in the West that has been open for over 20 years. Locals who want to hang loose head here with friends. The selling point for this establishment: it still has a functioning Juke Box, and a kitchen that serves up the best down home Bahamian food. There are a number of pool tables and of course the obligatory televisions to catch a game or two. Casual dress applies here. " I go here with my friends on a Sunday after playing basketball," said Greg Rolle, a banker . "You don't feel pressured to be dressed up. It's just a really nice laidback vibe."
Twisted Lime is a poplar sports bar frequented in large part by Bahamians and expatriates. It is tucked away in the upscale Sandyport Marina Village, a fifteen minute drive west of downtown Nassau. Described as a hidden gem by many, Twisted Lime offers 18 flat screen televisions from which to watch your favourite sporting events and two bars - one inside and the other on a patio overlooking a canal. Twisted lime also serves up an extensive menu with juciy steaks and burgers.
Local business executive Wenzil Rodgers says: "It's a great for after work happy hour; the crowd is a nice mix of professionals and the drink specials are great. I also like the ambiance of being able to sit outside near the water." Happy hour at Twisted Lime, Monday through Friday starts from 3.30pm to 7.30pm. Happy After Hours runs from 10.30 until closing, which is usually around 2am. Dress smart casual for a fun night at Twisted Lime.
The one place to find true true Bahamian food on any island in the Bahamas is the local Fish Fry. Arawak Cay in Nassau is the biggest and baddest Fish Fry, although not the chepeast. Over 30 restaurants, several with full service bars, lined up along a strip vie for your attention at Arawak Cay. The most well known spots are Goldies, Twin Brothers, Oh Andros and Franky Gone Bananas.
Just because there is an abundance of choice does not mean everyone is up to par. You can't go wrong with conch salad and a cold Bahamian beer: Sands or Kalik. And pretty much everyone is up to the challenge on the booze front: Sip on fruity tropical drinks, including signature diaquaris, or mystery mixes like The Big Bamboo, Gumbay Smash, Tropical Sunrise and Sky Juice.
For a full meal, your options will usually include a limited menu of fried, steamed or stewed fish, conch and chicken (lobster when in season) along with typical Bahamian sideorders, potatoe salad, coleslaw, peas and rice and macaroni. Conch fritters will also always be on the menu.
There is always a party going on at Senor Frogs. If you are into the hype, the dance floor or cocktail congo line is where you want to be. If you like to watch from the sidelines, sit outside on the patio and watch the action as cruise ships glide across the harbour. Sample the Senor Frog, a signature green drink. Not the health-buff kind; this green mix has vodka, apple snapps, rum and oranges served in whimsical glasses.
"If you want a Mexicali experience the best place for that is Senor Frogs," says Inderia, a 30-year old communications professional. "Spring breakers love this joint," chips in her friend Charmaine. Many cruise ship passengers make a b-line for Senor Frogs, particularly those celebrating birthdays. Senor Frogs looks out for birthday boys and girls: don't be surprised if they load you up with a few shots on the house.
The Humidor Piazza at Graycliff is a three for one experience: combined for an amazing night on the town are the Humidor Churrascaria Brazilian Steakhouse, the Giotto Pizzeria and Beer Garden. Over 40 to 50 beers from all over the world are served here daily. The luxurious Graycliff Hotel is world renown for its five-star gourmet restaurant. They have one of the most extensive liquor cellars in the world with over 250,000 different vintages of wine from over 400 vitners in 15 countrie.
The Humidor Piazza is for a different kind of entertainment: a relaxed night with beer, pizza and a good cigar. The Steakhouse serves up Brazilian Rodizio with a Bahamian flair in a South American steakhouse setting. Giotto Pizzeria offers traditional Italian thin crust pizzas baked in a state of the art wood brick oven. The Beer Garden: Let's just say Happy Hour without beer is a bummer. From 5-7pm on Fridays you can enjoy special rates on the beers, and deals on pizza. The dress code here calls for casual elegance.
For an East Village, NYC type experience head to Via Caffe, a Downtown, Nassau bar just a stone's throw away from the cruise port. In the night, the popular coffee shop/restaurant transforms into a chic ultra trendy bar and cigar lounge. This is where all of Nassau's hipsters go to be seen. The bar offers all of your favourite tropical mixed drinks with a full service bar. Open from 7am Via offers 2 for $7 mixed drink specials during the day; during Happy Hour on Fridays, their $4 martinis and mojitos are sure to keep you alertish. If you get hungry, not to worry they serve food until latenight: soups, pastas and sandwiches are all available to you. Be sure to head there on Saturdays for Kalik night when the beer of the Bahamas is made available to you at bargain rates. Live deejays and bands are on hand on the Weekends.
Situated on East Bay Street, a last stop before heading over the Sidney Poitier bridge that connects Nassau to Paradise Island, sits Green Parrot, a quintisential island bar and grill. Green Parrot's open air bar is perflectly located on the Nassau harbour boardwalk. It's a bar that can get lively, particulary when live music is on the menu, but not overly crowded or rambunctious.
Hammerheads Bar and Grill although not directly on the waterfront, looks like it blew in from the beach. It has an indoor and outdoor bar, with darts and foosball on the inside and live music on the outside. Usually filled with a mix of Bahamians and tourists who enjoy a laid back atmosphere, Hammerheads has great Happy Hour specials, and 'how you want it' food.
Get "Hammered" with specialty drinks such as The Sharkfeeder, a mix of vodka, Blue Curacao and blended juices or the Hammerhead Scullywash, a concoction of gin, coconut water, Baileys and special spices. Weekends, starting from Thursday, brings live music to the Hammerheads patio.