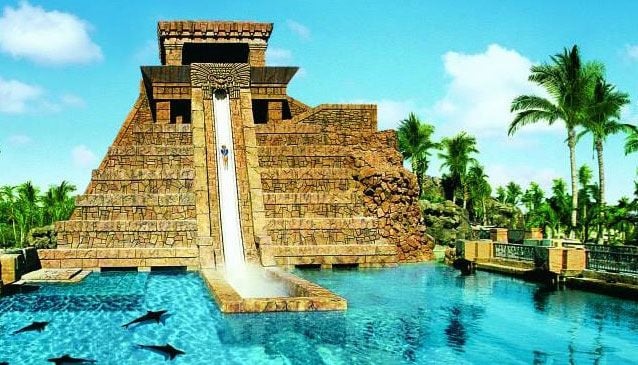 5 Top Attractions for Children in Nassau, Bahamas
Adventure
Beach games, water sports, ping pong and a bowling lane that uses coconuts instead of bowling balls.
A great way to spend the day in Nassau with children is at the Atlantis Resort's super cool waterpark. The one of a kind 141-acre waterpark caters to children of all ages. Over 20 million gallons of water flows through the waterpark each day to power the exhilarating high-speed water slides, a mile-long river ride with rolling rapids and wave surges, 20 swimming areas, a spectacular children's water-play fort and 11 unique and refreshing pools. Life guards are on hand all over the park to provide a safe environment. If you are not a guest of the hotel you can purchase a day pass. If you stay at nearby Comfort Suites hotel you get four free passes to the water park per room.
Blue Lagoon is a nearby island that is great to take children. Just a short ferry boat away, you can spend the entire day with the family. Swim in the calm lagoon, lounge on a hammock or relax on the beach; enjoy the inflatable water park on land or in the middle of the lagoon, as well as beach games and water sports. Kayaks and water bikes are available for rent, and acess to the water park will cost you a few more dollars. Freely available are the beach volleyball and soccer courts, a pingpong table and a bowling lane, where you use coconuts instead of bowling balls. A grilled lunch is provided along with tropical fruit drinks.
While on Blue Lagoon you can also head over to "Dolphin Encounters", an amazing habitat for dolphins and sea lions.
Take the unconventional route to Paradise Island by heading over to the ferry dock behind the Downtown Straw Market. For an afternoon of fun with your children spend some time at Marina Village, where you can shop in any one of 21 designer retails shops, or treat your taste buds to ice scream, fresh made juice, coffee or a hot meal, after you get a caricature drawing of your children.
Your children can live their own Charlie and the Chocolate Factory dream when they visit the Chocolatier at Graycliff. Here they will learn how their favourite sweet treats are made. After being immersed in the art of chocolate making, children have the opportunity make their own delicious masterpieces. The experience is entertaining and interactive just like children love.
Teens and Tweens will love Marios. This multiplex is located in the heart of Nassau and caters to a wide variety of gaming needs. The establishment serves up a heaping helping of fun with over 50 ultra-modern bowling lanes, Mario's Bowling and Entertainment Palace is the only bowling complex in New Providence and the largest in the Caribbean. Including the ultra-modern bowling lanes, entertainment includes a roller skating rink, a game room, billiards and family dining.